In my first knitting journal entry, I briefly talked about my jewel blue cardigan. If I had to give it a more creative name (or more accurate name), it would be the Sapphire Heather Cardigan with Czech Glass Antique Buttons.
As I write this, the cardigan is at least nine years old. I knitted it while living by myself in my first apartment back in New York City. It brings back good memories of knitting weekday evenings away while watching Attack on Titan and Man vs. Food after a long day of work…
It also kept my mind off the terrible roach and mouse infestation raging through the pre-war building I lived in.
I have to admit: the vintage look was cool, but living in vintage pre-war New York City apartments is NOT always fun. You can rip through walls and sheet rock, bomb the place, and bleach everything in sight. You will still have vermin.
Inspiration for the Sweater
I made this sweater with the help of Nina's Sweater Class on the Knit Picks website. At the time that I made this sweater, I was holding down the one bedroom New York City pre-war apartment by myself (a no easy feat for an early twenty-something year old). Since most of my income went to living expenses, I became a huge fan of Knit Picks because of their affordable wool.
At the time (roughly 2013), I could purchase 50 grams or 110 yards of worsted weight yarn for $2.49 each. Recently, the prices have increased to $3.79, but this is still a decent buy for anyone wanting to knit a project without purchasing more grams than they need.
I had fallen in love with this beautiful Sapphire Heather yarn, and decided to make a cardigan with it using Nina's Sweater Class and her instructions. I am a huge cardigan wearer, so I was excited to customize this with fancy buttons.
Materials used in this Project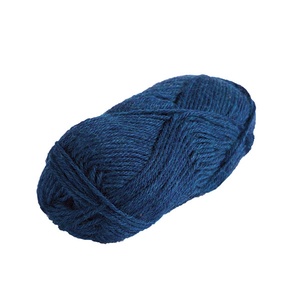 This sapphire wool is gorgeous. There are various layers and undertones of blue, creating a jewel-like knit—hence the name sapphire.
Imagine Titanic's "The Heart of the Ocean," but in fuzzy wool.
I do have to admit, however, that it isn't the softest wool I've ever worn. I usually keep this itchy wool off my skin by wearing a long sleeved shirt underneath.
I bought these beautiful pre-war Czech glass buttons from the Etsy store AddVintage. It is one of my favorite shops for sewing notions.
These buttons are estimated to be from before the 1940s. They are glass with a beautiful face that reminds me of sand dollars or the inside of a citrus fruits.
Unfortunately, these buttons are no longer available, but AddVintage is still in business! There are other glass buttons to choose from.
Sweater Revival
I wore this sweater less than I would have liked mainly because I knitted it slightly too small and the buttonholes were so loose that the buttons wouldn't stay in them. The arms were also really short on me. I have really long arms, so the average long-sleeved shirt fits almost like a 3/4 sleeves shirt on me.
Call me weird, but I waited nine years before I decided to do something about the wonky fit of the sweater. It is times like these that I appreciate learning how to sew because I used a few techniques to fix my sweater.
Adjustments made to the sweater nine years later
RESHAPING THE SWEATER
I finally reshaped the sweater. I don't have a blocking mat, but I do have a ton of towels and a water-proof floor.
I washed the sweater in a plastic tub using Kookaburra Delicate Wool Wash, which is available at Knit Picks and WeCrochet for $11.99.
After washing, I rolled the sweater in a towel to soak up the extra water, then laid the sweater flat over dry towels on the floor.
I stretched out the body and arms and reshaped them, making sure the piece was symmetrical when I was finished.
I have to admit, the sweater fits A LOT better. It covers the rest of my body and it is long enough for my arms. Thanks to the wool wash, the sweater is also a whole lot softer.
REINFORCING THE BUTTONHOLES
I noticed that my store-bought knit sweaters had extra threading by the buttonholes, so I decided to try reinforcing the buttonholes of my sweater using thread. I bought embroidery rayon thread by Sulky that has a striped variegated pattern.
Originally I was going to hand sew a zigzag stitch into the buttonholes. Unfortunately, the thread matched the yarn a little too well and it was barely noticeable after reinforcing the first buttonhole.
So, I tore out the thread and just reinforced the holes by closing up the holes so that they were a little smaller. This ended up being the better option because the buttons now stay in place!
What I learned…
This revived project taught me a few things:
Reinforce button holes for knitted sweaters – I will be knitting buttonholes a lot smaller than I usually do. However, in case I mess up and don't, I will reinforce the holes by sewing buttonholes with a machine or a zigzag stitch or by tightening up the gaps of the buttonholes. This prevents the holes from stretching and keeps the buttons in place.
Block or reshape to fix the fit of a knitted sweater – Before I assume a wool piece is too small, I will reshape the garment. I underestimated just how much wool can stretch, and this is super helpful for adjusting a knit piece. I was able to get the arms a good three inches longer so that it fits me better!
Wash wool garments more often – Admittedly, I go a long time before I wash wool knits. I tend to wear the items straight off the needles, then wait five to ten wears before I wash anything. I don't often wear wool against the skin, so the garment never smells or gets that dirty. The point of me waiting so long is because I want to preserve the item and wool has a tendency to overstretch. But, I found ways to present stretching such as folding a garment and washing it in this state, never lifting it out of the wash water without keeping it folded, and never wringing out the water, but squeezing the water out.
The Final Verdict
I give this Sapphire Heather Cardigan with Czech Glass Antique Buttons a 9/10.
It isn't perfect, but this sweater fits a whole lot better! I wore it the day after I finished fixing it, feeling like a sapphire myself.
© Parker Artistry Brands LLC, All Rights Reserved.