"I'm just like any modern woman trying to have it all. Loving husband, a family. It's just, I wish I had more time to seek out the dark forces and join their hellish crusade." ––

Morticia Addams
Today, I seek out the dark forces…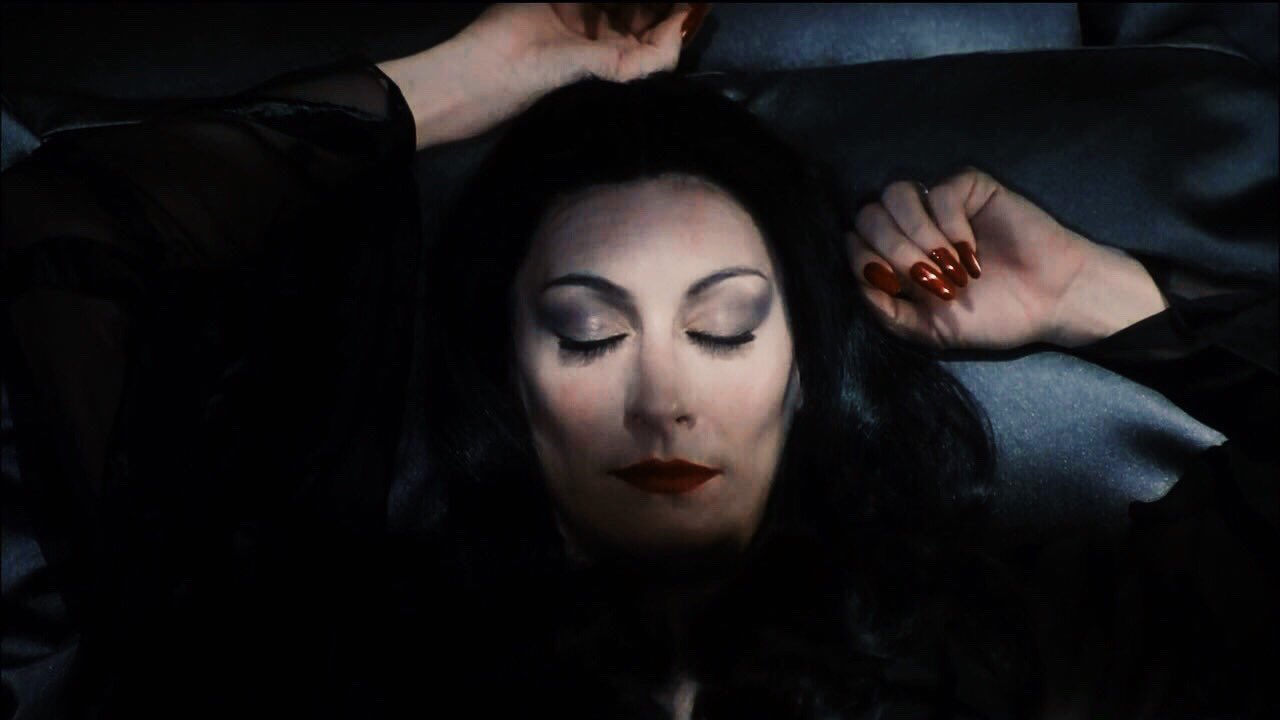 Every year, my husband and I go to this insane Halloween party where the costumes vary from practical to exceptional. After several years of attending as no-nonsense pirates, we decided to actually put some effort into our costumes this year. We are going to attend as Gomez and Morticia Addams.
The Addams Family needs no introduction, but not many of us knew that it originated in The New Yorker as a comic strip in 1938. Created by cartoonist Charles Addams, the Addams Family is a spoof of the ideal American family, obsessed with the macabre and completely unaware that their antics and mannerisms offend the general public.
Most people are captivated by Wednesday Addams, and why not? Christina Ricci and Jenna Ortega nailed those roles. But, my favorite character has always been Morticia Addams.
Morticia is the sultry, cadaverous, and nurturing matriarch of the family. Despite her dark countenance and ghoulish fascinations, she has a healthy and loving relationship with her family and is attentive and supportive of their needs, while also engaging in interests of her own.
We might give the Addams Family the side eye, but if you pay attention to how the members of the family interact with each other, they are probably the healthiest family out there; they communicate with each other, understand each other, and support to each other through the good and bad. They also welcome their employees as members of the family. Their butler Lurch is not just a hired hand, but a loved member akin to a cousin or sibling.
So, today, I seek out the dark forces and assemble what will be my very first costume.
It has to be damp…
I do not know what it is about this year, but I am fully invested in Halloween in a way I never was before. Hubby and I began a spooky marathon of horror classics, including the Addams Family. I stewed myself in each rendition and wondering who I should emulate the most. At the end of the day, though, I decided that costumes (like movie adaptations of books) should be fun, and so long as the base aesthetic is present, it is okay to create a variation of a character's wardrobe.
When we think of Morticia, three actors come to mind: Carolyn Jones, who played her in the original 1964 television series; Anjelica Huston, who played her in the 90s films; and Catherine Zeta-Jones, who played her in the 2022 Netflix series Wednesday. I took some inspiration from all three.
In nearly every interpretation of Morticia, she has an hourglass figure highlighted through a black, form fitting maxi dress with a trumpet train and long sleeves.
I came across McCall's Costumes M8303 on Etsy, and although the dress is not exactly what Morticia wears, it comes pretty close and will definitely pass for her attire. Besides; it also has quite a few elements that I can utilize to make it my own.
Carolyn Jones, Anjelica Huston, and Catherine Zeta-Jones
At first glance, it appears that there are very little details that help differentiate the three styles of the three Morticias. But upon further inspection, each of them do have do have their own style.
Jones's Morticia is the most elegant, or, rather, truest to the source material. She is seen with her iconic black dress, but the sleeves are often shown fluttering with spider web-like details. The dress has a v-neckline and she tends to wear a necklace or amulet.
Her train resembles the legs of a tarantula. The feeling is truly spooky!
However, decided to forgo the tarantula train because I wanted to be able to walk and dance in this dress and I honestly prefer the looks of the updated gowns.
Huston's Morticia is all about the glam. Her black dress is often dazzled up with glitter, feathers, fur, or lace. Her costume has more variations than Jones and Zeta-Jones combined.
Huston's Morticia gave me more to work with, prompting some spur of the moment creativity. I think she is the most stylish of the three Morticia interpretations, so I felt like I could make my own style deviations without taking away from Morticia's base look.
This was especially helpful because reading this McCall's pattern was like trying to translate alien language. I had to make a few things up for the pattern to make sense to me.
Zeta-Jones's dress has what appears to be velvet or suede ruching on her waist, and a dramatic plunging neckline. This appeared to be the only dress variation shown in the Netflix series.
However, after watching Wednesday a few times, I did notice some other variations of the dress where the sleeves were a little more dramatic, and the ruching was nonexistant.
Zeta-Jones's dress is on the minimalist and elegant side.
Materials
FOR THE DRESS
McCalls M8303 Pattern
15 Yards Polyester Recycled Velvet Fabric in BLACK
The Witching Hour Halloween Net Fabric Crushed Web (Alternatives include Flocked Glitter Floral Vines On Tulle Mesh Fabric or Skull Embriodered Lace Fabric by The Witching Hour
Two zippers and two hooks and eyes (see pattern)
FOR THE JEWELRY
Hermatite Stone Hexagon Disc Bead Strand by hildie & jo
Glass Beads by hildie & jo
Black Round Natural Lava Strung Beads by hildie & jo
Threading, one jump ring, and lobster clasp
Onward to our Hellish creation!
The M8303 Pattern is a collaboration pattern originally by Yaya Han, who does incredible cosplay.
It was inspired by Carmilla of Styria from Castlevania, a visually stunning animated show based on the video games of the same name.
If you haven't seen Castlevania, it's action packed, gory, and suspenseful. Loved it! Bonus points if you play the games!
Even though I planned to make this a Morticia costume, I wanted to get multiple wears out of it by also turning it into a witch and vampire costume. Thankfully, I had a ton of velvet fabric left over that I could turn into a witch's hat––more on that later.
I bought fifteen yards of Polyester Recycled Velvet Fabric in black from JoAnn. It is a 92% Polyester and 8% Spandex blend. It was definitely pricey, but I did manage to buy it on sale and it was a fantastic alternative to the nicer $30 per yard velvet that was next to it.
The original pattern for my size also calls for fifteen yards of lining fabric. I decided to completely omit the lining for two reasons: 1) I did not want to be too hot in this dress. Where I live, it is still quite warm in October and I do not want to feel overheated in my costume. I am also making this costume out of synthetic velvet, which is already a rather thick and warm fabric. 2) the velvet was already expensive, and I wanted to cut down the cost of the materials. This is by far the most expensive project I ever attempted, and additional fabrics would bring the project to way over $200―and that is just not going to happen.
In addition to removing the lining, I decided not to use interfacing since I plan on wearing structural undergarments and making changes to the neckline. And, since there is no lining, I will be using French seams to keep the inside construction neat and sturdy.
This fabric, despite the spandex, is not overly stretchy―but, this worked out very well because the texture of the fabric is perfect for how I wanted the dress to feel; form fitting, but with enough give so that I wouldn't feel constricted in the costume. The fabric also sews very nicely with a straight stitch. The slight give to the fabric also made it forgiving to make since I would make plenty of mistakes.
Side Note: I ended up not even using all fifteen yards. I still had five yards of fabric leftover.
Contrary to common sewing wisdom, I did not wash this fabric because I was concerned about the velvet getting wrinkled, and this fabric CANNOT, I repeat, CANNOT be ironed. I plan on washing it by spot cleaning only. Fortunately, this is not an everyday dress and should not require regular cleaning.
As a bonus, I decided to line my neckline with black lace. I am using the English Nottingham insertion lace that I bought from Penelope Textiles on Etsy (which is fancy and probably shouldn't be used for a costume, but you only live once! It is not a lot of lace, but I thought it would provide some nice contrast to the shiny velvet. I accepted the possible tragedy that might occur upon the installation of this lace.
Cutting and Sewing the Pattern
This pattern was written in Martian. I often had to guess what the pattern was asking me to do. I read it over a dozen times, but ended up using the photographs from Yaya Han's website to get an idea of how the pieces were supposed to fit. Her site showed the dress in different angles, which was very helpful.
Next to reading the pattern, cutting out the pieces was a little challenging. This was mainly because synthetic velvet cannot be ironed. I hung the fabrics over my loft balcony to keep the fabric as wrinkle free as possible throughout the sewing process.
The pattern requires you to cut out seven panels of fabric along with extension pieces since the dress is meant to drag on the floor. I will figure out how to make this dress suitable for dancing later.
In addition to the seven panels, there are two sleeves and a back portion for what I originally thought was a removable cape―more on that later.
After cutting the pieces, I matched the panels according to the picture instructions since the actual written ones are only legible until step 6 out of 28.
What I did was sew together the three front panels first, and then I sewed together the four back panels. I used French seams on all of the panel seams to keep them neat and stable.
Next, I used the zigzag stitch on the neckline to prevent it from fraying, and then I sewed the English insertion lace on top to create a decorative neckline. I thought about hand sewing the lace, but honestly I was lazy and it ended up fine enough.
I tried on the dress as I went, and I was very surprised and relieved at how beautiful it was turning out. Everything from lace neckline to the draping sung dark, vampy beauty.
The main thing I wanted to change was the split length. It was too long. I ended up adjusting it to be thigh high.
The Back and Zipper
I started rummaging through my mini drawers to find the zipper foot for my machine, and to be honest, I had no idea what I was doing. I took one look at the additional feet in my drawer, and was like… NOPE. My brain was not prepared to figure out how to use it. I was having an "Abby Cox" moment where I accepted the fact that I suck at certain aspects of sewing―and that is OKAY. I think I will always suck at zippers.
I decided to install the zipper by hand. It took a lot longer than machine stitching, but this honestly saved me the headache and the time to look up a tutorial and tinker with my machine.
The Sleeved Cape
This was another instance of me not knowing what the heck I am doing. These instructions are not only Martian; they are a Martian dialect from the Arabia Terra region.
I originally thought that the sleeved cape was detachable. So, when I found out otherwise, I decided to figure out how to make them detachable. This was because I wanted to make two different capes for the dress: one with mesh netting, and another with the same velvet as the dress.
I found out that you are supposed to sew the four cape pieces together, then attach them to the dress at the shoulders. Originally, I was going to add buttons and loops, but laziness prevailed and I thought it would be better to create the capes and attach them using decorative brooches. The lazy idea turned out to be a better option. Not only did this save me the grief and aggravation of sewing on buttons, but I got to go to JoAnn and buy supplies to create my own decorative accessories.
As I promised myself, I made TWO capes, one in the same velvet as the dress, and another in the spiderweb mesh. It was totally worth it.
When I tried on the dress, I was super happy with the end result. It is far from perfect; I do have some strange gathering going on in the right shoulder, but it is satisfactory.
The Jewelry
Admittedly, I was in the middle of a "No Buy" season while making this costume, but I did cave in to purchase a few supplies that I actually needed to complete the costume. I am not going to sweat the shopping trip since I went over thirty days without spending and was far under my monthly budget.
At JoAnn, their jewelry supplies and beads were on sale, which saved me 40% of what I originally was going to spend on costume jewelry. I found these beautiful Tim Holtz Assemblage pendants, as well as an assortment of natural lava beads, hermatite stone, and glass.
I bought jewelry threading, clasps, and brooch pin backs and went to work. I experimented with a few beading sequences before settling on three hermatite stones, then the lava stones or glass beads, repeating as needed. I placed the pendant in the middle.
For the Brooch, I swiped the last two Tim Holtz pendants with the crystal stones set upon engraved leaves. I used gorilla glue to secure them to pin backs.
They did a great job securing the sleeved cape to the dress.
The Finished Look
After adding some makeup, black nails, and boobies, here is the finished look!
I was over the moon with how magnificent this costume turned out. It is my first costume ever, and the quality of it is just exquisite. I was also able to do some dark, gothy makeup without looking like a pile of ash! My skin tone is dark and warm, so grey colors make me look sickly rather than gothic. So, I went with dark berry colors and coral shimmer for the eyes. I felt incredible wearing the costume; it is both sexy and surprisingly comfortable.
If I had to do this differently next time (if there is a next time), I would hand sew the lace so that it looks neater, and I would figure out how to use the zipper foot. There are portions of the dress that are a tad warped, but honestly, they are pretty unnoticeable once I put the dress on.
This was one of the more difficult pieces I have ever sewn, so it gave me a lot more confidence for more difficult projects.
What do you think? And, who do you intend to be for Halloween? Let us know in the comments below!